That a trip in Sai Gon in Vietnam by a luxury, comfort vehicle at reasonable best rates, travel with our VIP limousine van name THAI DUONG LIMOUSINE VAN ! A new premium transport style only from Thai Duong Tourism in Vietnam!
Product of uniquely innovation
Limousine Thai Duong Van
in Vietnam are normally provided at very expensive rate as subject to a lot of different taxes and fees. By creativity, we partnered to launched the limousine minivan – the unique luxury transport in Vietnam.
The limousines Thai Duong van for rent
refurbished and repaired from cramped 16-seat van (Ford Transit )  to spacious luxury limousine van with premium leather seats only 10 seat ( 07 limousine VIP seat + 02  Luxury seat + 01 driver ), soundproof walls separating cabins with good driver, equipped with LCD screen, stereo, the system automatic doors, Wi-Fi, 3G system ….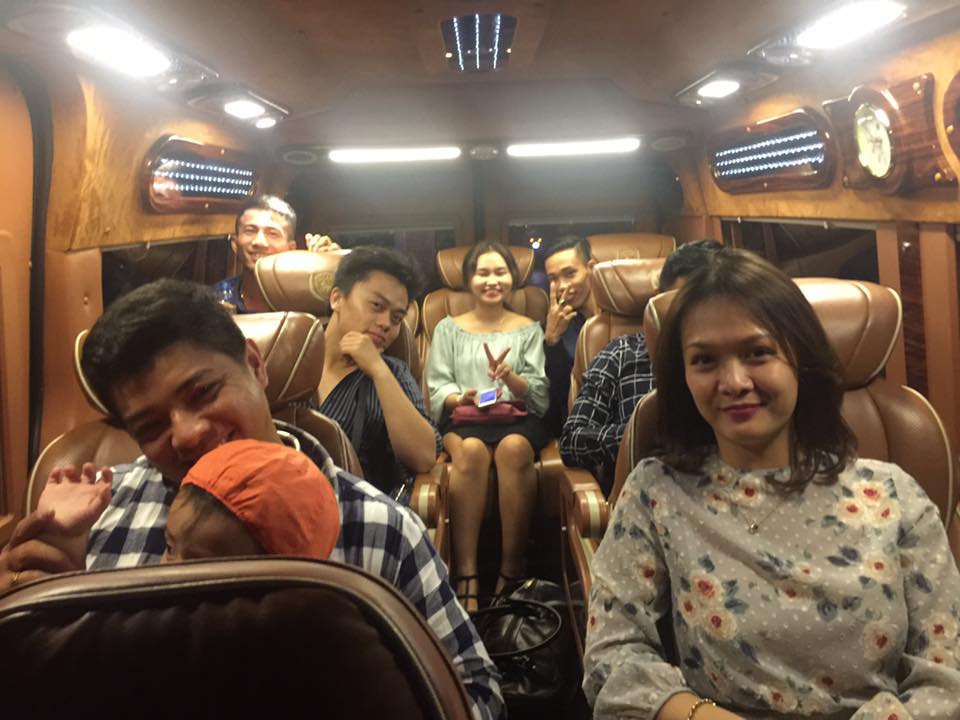 For sure Limousine Thai Duong van for rent will be ideal choice for business travelers, families and those who promote the comfort, privacy and luxury at extremely reasonable prices.
Serves availability at Limousine :
Ho chi minh services pickup at airport by limousine van
Ho chi minh City Tour by Limousine van
Limousine van for rent to Mui Ne , Vung Tau ,
Limousine Thai Duong minivan facilities:
LCD screen
High quality audio system
The system automatic doors
Wi-Fi 3G system
First-aid kit & umbrellas cabinet
Leather seats with seat-belt
220v Power outlet & wine cabinet
Electronic game play kit (limited offering )
Spacious luggage cabin
Automatic foot-rest control (limited offering)
Apple PC: CPU, wireless, keyboard & mouse cabinet (limited offering)
Luxury standard services
Max 07 persons
Max 05 suitcases
Max 05 hand luggage
Speaking language: Vietnamese & Basic English
Free mineral water and tissue
Routes

Distance

Renting duration

Price (US$)

Ho Chi Minh airport transfer

10km

3hours

35

Ho Chi Minh half day city

4hours

75

Ho Chi Minh full day city

8hours

135

Saigon – Cu Chi Tunnel

55km

5hours

105

Saigon  – My Tho

75km

7hours

120

Saigon – Can Tho

170km

1day

230

Saigon – Can Tho

290km

2days

265

Saigon – Vung Tau

120km

1day

185

Saigon – Vung Tau

210km

2days

250

Ho Chi Minh to Mui Ne

197km

1way

145

Ho Chi Minh to Nha Trang

447km

1way

415

Ho Chi Minh to Nha Trang

760km

2days

590

Ho Chi Minh to Da Lat

310km

1way

220

Ho Chi Minh to Da Lat

527km

2days

440

Overtime charge

15

Hourly rental

25
Price Include : Private air-conditioned with driver; Fuel; Parking fees; Toll fees; Mineral water & tissue.
Price exclude : Guide; Personal expenses; Tips.
Price quoted in US$ for per minivan
Our staff can arrange a new pick-up for you.
If your flight delays longer than 3 hours and you have e-mailed or called to notify us, we will arrange the pick-up for you with no extra charge.
If your arrival time falls into the "Night" time (from 21:00 to 07:00am), you also agree to pay the additional fare to our staff of 10US$.
Gratuities for driver is not included but are highly appreciated
Cancelation policy:
No charge for cancellation/amendment made 24hours prior to the request time (local time)
Cancellation/amendment made 12hours in advance, 50% of total will be charged
Late cancellation/amendment within 12hours to be charged full amount
For further information, please contact us at: thuexe@thaiduonglimousine.com